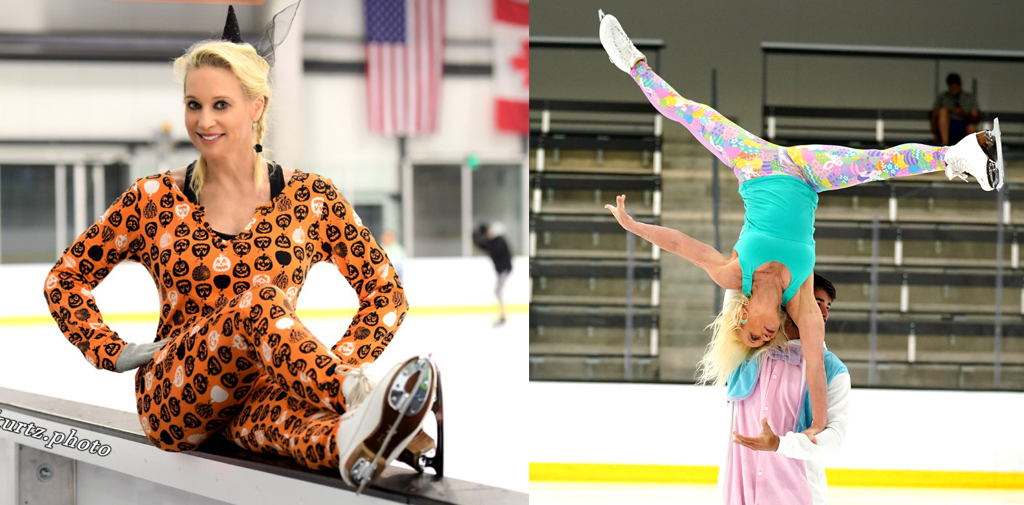 Ice Skating:
Motivational & Inspirational
Back on the ice after 50 years! 1969-2019
Ice skated when I was a kid and quit to pursue my dreams of training and going to the Olympics in Gymnastics.
Coming full circle after doing gymnastics then professional fitness and then professional cabaret Theater arts ballroom dancing. Now back to ice skating after a 50 year absence
Taking all my past sports experiences to participate today at 60 year old in ice Dancing and Pairs ice skating
Taking my lifts and tricks form the ballroom cabaret theater arts world to the ice.
Trained with Alt to the Olympics 2022 for pairs Ice Skating for the USA. Brian Choreographed my mother son themed tribute 10 year anniversary pairs ice skating performance to my son, Brett Alan Weiner who died 10 years ago at 21 Years old in a car accident.

 

Ice skating allows me to feel carefree and to be able to express my expressions and feelings while on the ice.
Turning 60 yrs. old has not stopped me from continuing to learn many different things in pairs ice skating and ice dancing.
Training at the Great Park Five Points in Irvine with a bunch of highly over achiever kids training for something big.

They give me motivation and inspiration.
Working with past and present Olympians is a blessing from above. I am honored and blessed to ice dancing and pairs ice skating with the best

Pursuing my ice dance pattern tests. Starting testing in 2021.
On the ice each day 5 to 6 days a week. Knowing from my previous sports and dance that hours spent practicing make YOU better and better.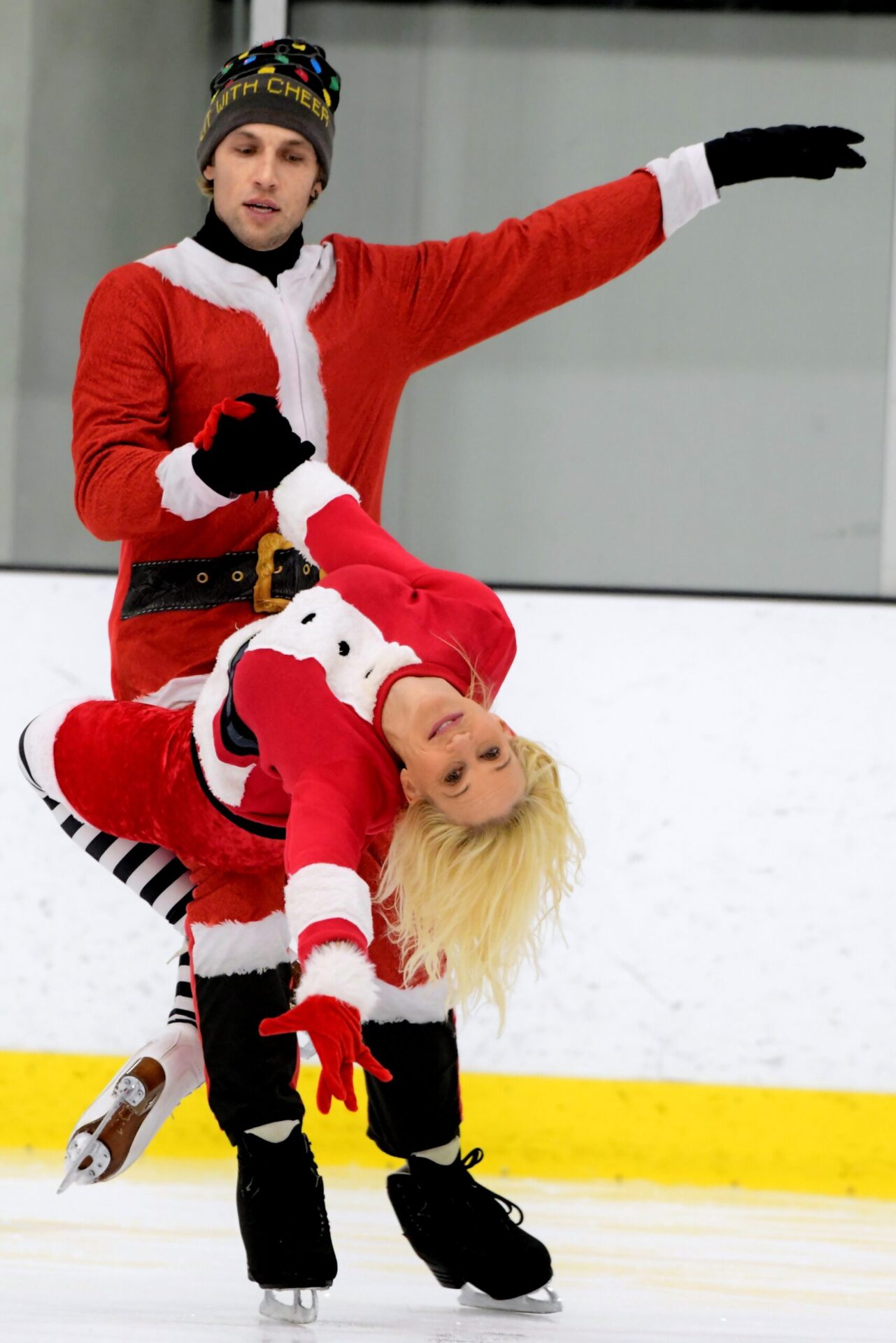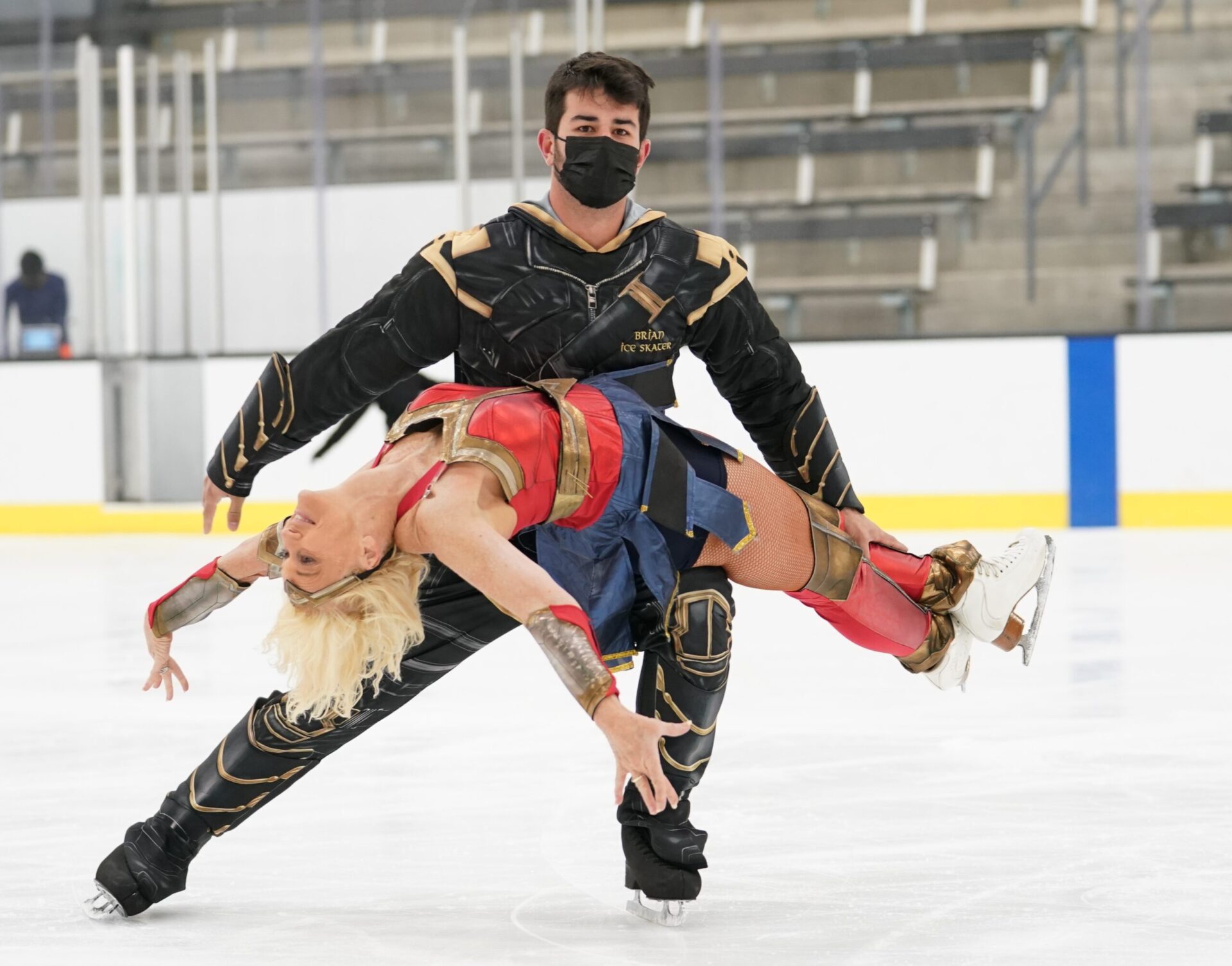 Life is so amazing!  I could never have imagined a childhood dream I tucked away on a shelf would be dusted off, polished and sparkling in the sunlight after 50 years.  What a great example of coming full circle!
You see, when I was a little girl, I loved ice skating and gymnastics. My desire to compete in the Olympics as a gymnast was so strong that I put away my ice skates and began training in gymnastics. Despite the fact that Jimmy Carter's boycott of the 1980 Olympics prevented the United States from participating, I persevered, disappointed but undaunted.
As the years past, my gymnastics led to Professional Fitness and then to Professional Cabaret Theater Arts Ballroom Dancing.  Little did I know that all the training and skills acquired in gymnastics, fitness and ballroom dance were about to merge together in perfect synchrony and be exactly what was needed for my next adventure!
In 2020 while I was contemplating how I could best utilize my current skills, I began interviewing various coaches and partners in order to find the right fit for me.  The thought of putting all my lifts, tricks and dance movements to the test on the ice was both terrifying and exhilarating.
I could hardly believe my decision.  I bit the bullet and decided to conquer the unthinkable. Ice Dancing & Pairs Ice Skating get ready, because here I come!  I was so excited, after 50 years, my little girl dream was finally coming off the shelf.  All the dramatic lifts, spins, leaps, tricks and elegant, graceful extensions I had learned proved to be the ideal preparation skills for making my ice skating dream a reality.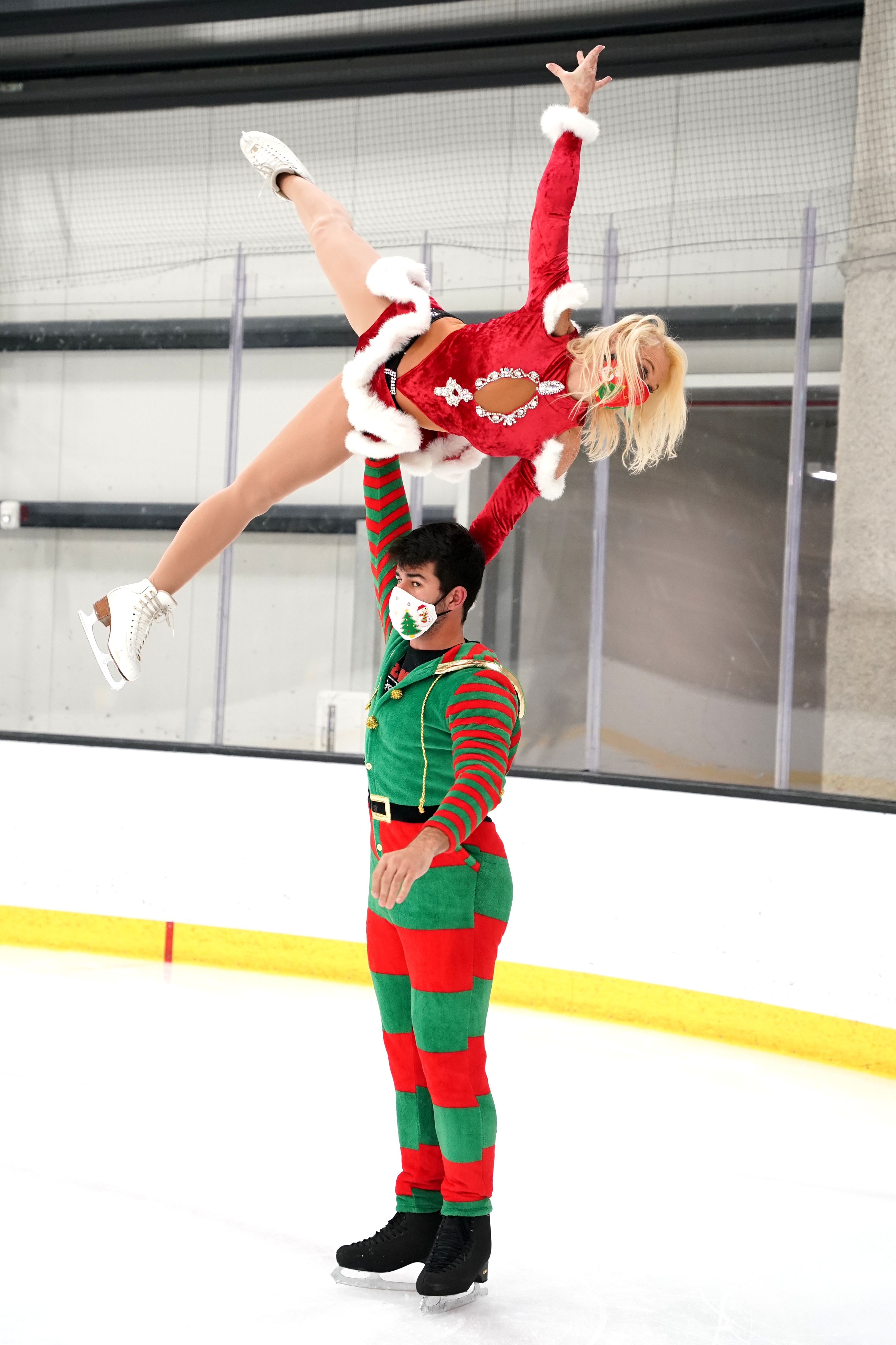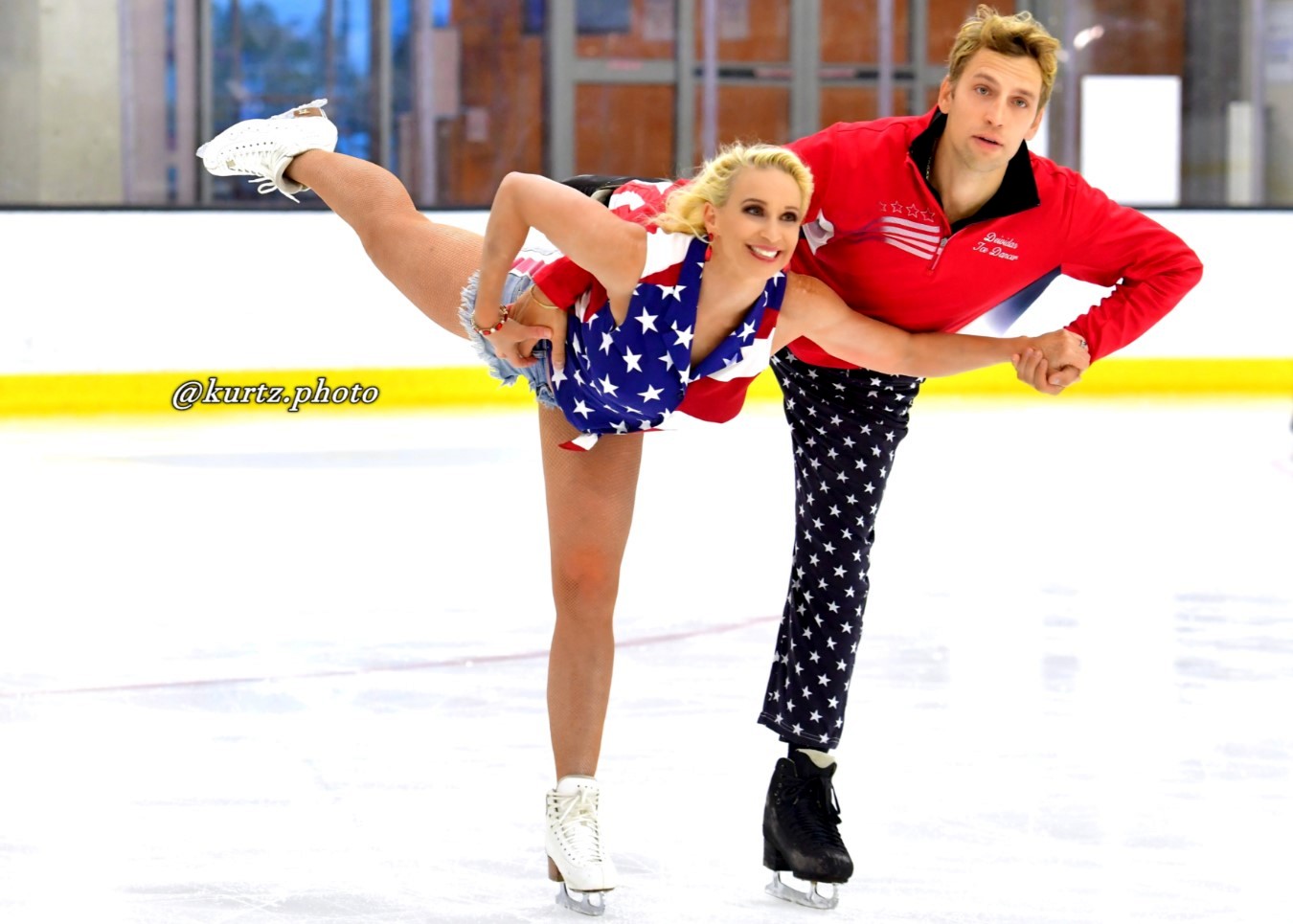 As it turns out, figure skating is simply gymnastics on ice whereas ice dancing is all about musical interpretation, foot work and rhythm. How absolutely perfect! I had been practicing for this my entire life, without even realizing it.
Ice skating has always given me a sense of freedom I've not experienced in any other sport or endeavor.  When I'm gliding across the ice, I'm completely carefree and able to express my feelings and deepest emotions. With the cool breeze on my face and the fluttering of my costume skirt it feels like I can float above whatever difficulties or problems I'm having – it is truly such a wonderful feeling.
Although years of training have made it a little easier for me to immerse myself in ice skating, I can assure you that there is NO slacking off in this profession.  The preparation and training I am receiving now seems to be even tougher. I've been training in Irvine's Great Park Five Points.  I am on the ice daily practicing five days a week – sometimes double shifts – and, on top of that, I frequently come back for further practice at lunchtime!
Click on the photo of the gallery you want to see  to see the whole collection with full size images.
Pairs Ice Skating
and Ice Dancing
Pairs Ice Skating
and Ice Dancing